Brief about SANKRITI ANGAN's background & activities in last 3 years :
This is a govt. registered charitable trust, started functioning since 2017. The trust was formed, based on the common understanding amongst few like-minded individuals to offer "service to the society & nurture our cultural heritage".
ADVISORY BOARD
Comprising of great ambassadors of Indian Culture is the guiding force – it was headed by Padmashree Neemai Ghosh (eminent photographer) & after his sad demise, now the Advisory Board is headed by Tabla maestro Pandit Anindo Chatterjee.
Other board members are: Eminent vocalist Vidushi Subhra  Guha, Guru Pandit Swapan Siva ,Harmonium maestro Pandit Jyoti Goho, Tabla virtuoso Pandit Samar Saha, Sitar maestro Pandit Kushal Das, Fascinating Sarod player Pandit  Pandit Tejendra Narayan Majumder, Santoor maestro Pandit Tarun Bhattacharya, , Sitar virtuoso Pandit Sugoto Nag, Danseuse Smt. Sanchita Bhattacharya ,Tabla wizard Pandit Subhankar Banerjee.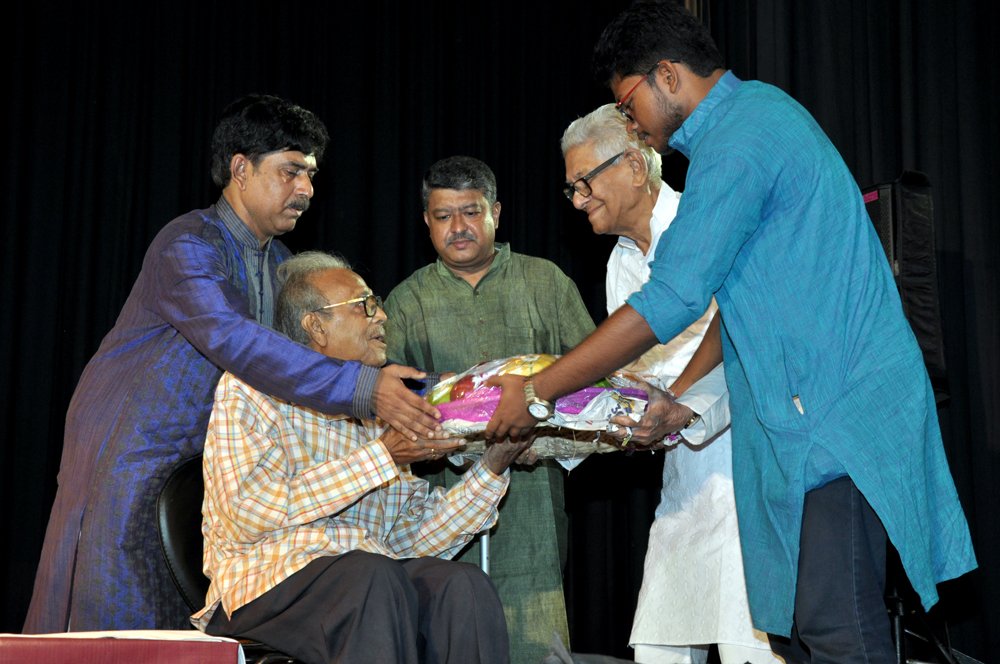 PATRONS
Comprising of individuals from various walks of life are the guiding force of the Trust. Their patronage is supporting various activities of the Trust:
Sri Amit Bose, Smt.Nibedita Banerjee, Dr.Uday Kumar Bhattacharya ,Lt. Col. ( Retd) Sri Bidyut Chakraverty, Dr. Rajat Kumar Das, Advocate G. P. Dasgupta, Sri Samir Mondal , Dr. Asit Kumar Ghosh , Advocate Debajyoti Sarkar , Sri Rana Majumder , Sri Debasis Sinha , Smt. Minakshi Dasgupta, Sri Kalyanbrata Banerjee, Smt. Manju Dasgupta , Sri Swapan Kumar Ghosh ,Brahmananda Maharaj, Sister C Fernandes ,Smt. Kuntala Roy, Smt. Tanuja Das, Sri Samir Saha, Advocate Sri Asis Sarkar, Sri Tanmay Kar, Sri Subir Mukherjee, Sri Sujit Sen, Sri Arabinda Ray, Sri Suhrid Das, Sri Raja Chatterjee , Sri Bitan Banerjee, Smt. Susmita Majumder
PRESIDENT
Sri Ashok Dasgupta
CHAIRMAN
Dr.Kamalsankar Mazumder
TRUSTEE BOARD
Sri Amitava Dasgupta
Smt. Kasturi Dasgupta
CORE COMMITTEE MEMBERS
Sri Amitabha Chaudhury , Sri Dilip Majumder, Sri Ranadeep Banerjee , Sri Rana Dasgupta, Sri Indranil Adhikary , Sri Kaushik Bhattacharya , Sri Chiranjib Suin , Sri Hriday Ranjan Das, Sri Avijit Dasgupta, Sri Manas Dey, Sri Dhruba Roychowdhury, Smt. Suvarna Majumder, Smt. Sumitra Banerjee, Smt. Dalia Dasgupta , Smt. Keya Bhattacharya , Sri Soumitra Das
MEMBERS
Sri Ramadas N R , Sri Abhijeet Gupta Sri Dipankar Sarkar, Sri Kuntal Das, Sri Chiradip Sarkar, Sri Ayan Sengupta, Sri, Sri Kaushik Dasgupta, Sri Debjit Patitundi ,Smt. Aahiree Banerjee, Sri Abhishek Dasgupta , Sri Rajarshi Majumder, Sri Aarchik Banerjee, Sri Ankush Dasgupta, Sri Bikram Sengupta , Sri Anjishnu Dasgupta , Sri Jishnudeep Chowdhury ,Smt. Srabani Das, Sri Supreet Das, Sri Sandip Mallick, Sri Soursih Dasgupta, Sri Soumya Sarkar, Smt. Hiya Banerjee, Sri Akash Das, Sri Siddhartha Das
Glimpses of the activities of the trust
PROMOTING YOUNG TALENTS
This being one of the focussed objectives of the trust ,the trust has showcased talented young musicians e.g. Smt. Debopriya Chatterjee (Flute) , Smt. Debasmita Bhattacharya (Sarod) ,Sri Aarchik Banerjee (Tabla) , Smt. Rageshree Das (Vocal) , Sri Surojato Roy (Tabla) , Sri Chiradip Sarkar (Santoor) , Sri Debjit Patitundi (Tabla) ,Sri Arun Mondal (Harmonium) , Smt. Sudarshana Dasgupta (Vocal) in various concerts , organised by the trust.
OFFERING 'HEALTH INSURANCE' TO THE VETRAN ARTISTS
The trust had offered health insurance to veteran artists:
Sri Gour Raut – Vocalist – disciple of Pdt. Jamini Ganguly
Sri Anuj Mukherjee – Tabla player, disciple of Pdt. Swapan Shiva
Sri Haripada Gharani – Vocalist
They were offered Health Insurance during the Annual event on 3rd August, 2019 at ICCR Kolkata. M/s GIBL & St. Laetitia's High School were kind enough to be the support for this noble cause. Trust is continuing the Health insurance support.
MONTHLY SCHOLARSHIPS TO DIFFERENTLY-ABLE & FINANCIALLY WEAK STUDENTS OF 'PERFORMING ARTS'
The trust is continuing it's one of the most challenging objectives of supporting differently abled students & children– last year students from various fields of performing arts were offered monthly scholarships:
Smt. Sulekha Mondal – vocalist from Rajya Sangeet Academy (West Bengal)
Sri Akash Burman, student of Govt College of Art & Craft, Kolkata
Sri Sohan Jana – differently able student of 'The Lighthouse for the Blind'- Kolkata
Smt. Tanushree Biswas : differently able student of 'The Lighthouse for the Blind'- Kolkata
Smt. Sreya Halder – dance student of 'Premier Academy of Culture'- Kolkata
FELICITATING THE ELDERLY ARTISTS & OFFERING 'LIFETIME AWARD
The trust had felicitated Padmashree Neemai Ghosh – the master photographer, who had worked with Satyajit Ray during the last annual concert.
ARRANGING 'TALENT SEARCH COMPETITIONS'
The trust had organised 'Sit & Draw Competition' to find out the talents & supported them with rewards. There were two sections: Normal Children & 'Especially able Children' – about 200 children participated in the competition, which was well appreciated by one & all.
ORGANISING 'INTERNATIONAL WOMEN'S DAY'
On 8th March, 2020, the trust had celebrated 'INTERNATIONAL WOMEN'S DAY' at 'NAVANIR OLD AGE HOME- BANSDRONI, KOLKATA'– an Old age home for the ladies. Young & talented musicians performed on this occasion. Day started with vocal recital by Smt. Sudarshana Dasgupta, who was well accompanied on Tabla by Sri Jishnudeep Chowdhury & Sri Arun Mondal on Harmonium, then Sri Chiradip Sarkar enthralled the audience with his music on Santoor , which was well accompanied on Tabla by Sri Surojato Roy .The penultimate presentation was by the members of 'SAURABHI' , who presented Rabindra Sangeet songs & dance directed by well known veteran Rabindra Sangeet artist Sri Swapan Kumar Ghosh & Smt. Debjani Bhattacharya . Even the mothers of the old age home were so happy, engrossed & involved with the event, voluntarily they also presented songs , recited poetries.
Trust had handed over 'SPECIAL MEDICAL ASSISTANCE CARDS' to all the 65 inmates of this old age home – this card will enable the member to avail medical facilities at a discounted rate throughout their lifetime. We are indebted to 'RUBY GENERAL HOSPITALS', Kolkata for their generous support.  Whole day was spent with the mothers & grandmothers of the home.
Members of 'SAURABHI' – a musical institution, gifted a pack of utensils to the mothers of the 'NAVANIR OLD AGE HOME' as a token of their love & respect.
Co-incidentally , this year (2020) , 'FESTIVAL OF COLURS – HOLI' occurred on the same day , so the celebration concluded with offering respect to the mothers of 'NAVANIR OLD AGE HOME' & all the audience present there by playing 'Holi' .
The members of the Trust & all the musicians spent a great day with the mothers of 'NAVANIR OLD AGE HOME'.
SUPPORTING DIFFERENTLY-ABLED CHILDREN & MUSIC STUDENTS:
The trust had tied up with 'Ruby General Hospital' & arranged for 'SPECIAL HEALTH CARDS' to the students of 'ANWESHA – THE QUEST'– an organisation working towards the betterment of differently able children.  We had handed over the special health cards to 43 students, which will enable them & their family to avail medical facilities a cheaper rate.
DISTRIBUTING CLOTHES & MEDICINES TO THE 'NATURAL CALAMITY AFFECTED CITIZENS'
The trust collected clothes & medicines and helped the homeless people, who got severely affected by cyclone 'AYELA' & 'UM PHUN' in the districts of 24 Parganas (South), Midnapore of West Bengal.
ORGANISING WORKSHOP ON 'PERFORMING ARTS' & MANAGEMENT SKILLS
The trust is organising workshops on various arena of 'performing arts'. The first workshop will be mentored by Tabla maestro Pandit Subhankar Banerjee. This will be followed by workshops on : Vocal ( Hindustani classical ), Rabindra Sangeet , Nazrul Geeti, Dance ( Kathak, Bharat Natyam, Odisi ) , Still photography, Pencil Sketching, painting etc.
We will be also arranging workshops various management skills: Sales & marketing, digital marketing, presentation, communication etc.
AWARENESS PROGRAMMES
We are already working with various institutions to present various awareness events.
PROVIDING SUPPORT FOR 'LIFE THREATENING DIESEASES'
The trust had financially aided a NGO called 'MUSICAL GROUP CANCER TRUST, Mumbai' to support the victims of deadly disease cancer to support the affected children.
DISTRIBUTING FOOD PACKETS TO THE 'COVID-19 LOCK DOWN AFFECTED CITIZENS'
The trust handed over food packets to the people, who got severely affected by 'Lockdown due to COVID-19'.
Trust also handed over cheques to 'Bharat Sevashram Sangha'– Kolkata & 'Chief Minister's Relief Fund'– Govt. of West Bengal as a token of our support for the 'COVID-19 affected downtrodden'.
FELICITATING THE GURUS
The trust had felicitated two maestros – Pandit Sugoto Nag (Sitarist) & Pandit Subhankar Banerjee (Tabla maestro) during the annual concert for their contribution in the field of 'Indian Classical Music'. We also felicitated eminent Sitarist Smt. Anupama Bhagwat (eminent Sitar player) during the 'Annual Concert'
PROMOTING 'GREENER ENVIRONMENT'
The trust had taken various initiatives to promote & propagate for 'Greener environment' – instead of felicitating the performing artists, gurus & veteran artists with flower bouquet; we had handed over a sapling to each of them. We were supported by "Indian Life Saving Society – Kolkata" in this activity.